Ahoy and greetings!
As of late I have finished a rather large project. This tree stands just over five feet tall, features feathers, bones,fossils, gemstones and metal.
I have had an issue taking a good photo of it and as such I have decided to hold a photography contest. participants must take photos of the tree at either the Canada day celebration on Queen street Niagara Falls from 10-5 on Friday July 1, or at the neob Lavender festival at 758 Niagara Old Stone rd. on July 9-10 then post the photos on facebook, twitter, or instagram and tag Midgardmetalworks, then message me with a link to your submission ! The winner will be announced on July 30th , submissions must be made by July 25 !  the prizes will be as follows :
$25 Midgard Metal works Gift Card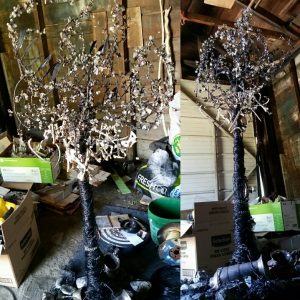 Free custom leather bookmark
Free Custom leather Keychain
Prizes will be available for pick up on August 6th at the henley Regatta Bazaar.
Good luck everyone!
UPCOMING EVENTS!
JULY 1st 2016, 9am-5pm, NIAGARA ARTISTS EXPO (at the Canada Day events), Queen street, Niagara Falls (Midgard Metal Works will be just past the TD bank as you are Walking down Queen street)
July 2nd 2016, 1pm-4pm, Summer Of Love Open House, Oracle Art Gallery, 289 High Street, Fort Erie
July 9th-10th 2016, 10am-6pm, Neob Lavender festival, 758 Niagara Stone Road, Niagara-on-the-Lake
August 6th 2016,  9am-4pm, Henley Regatta Bazaar, 201 Main Street , St. Catharines
September 24th, 10am-5pm, Psychic & Wellness EXPO, Heartland Forest, 8215 Heartland Forest Road, Niagara Falls
October 1st 2016, 10am-4pm, POOCH-A-PALOOZA (therapy tails benefit), 7 Park Avenue, St. Catharines
November 12-13 2016, Nov 12 / 10am-4pm, Nov 13 / 11am-4pm, Christmas In Old Town, 222 Davy Street , Niagara-on-the-Lake
Hope to see you there !
*please note due to the time required to craft certain items there will be a limited amount of roses and large pieces at these events. If you wish to obtain one please arrive early for the best selection.
May a thousand blessings hidden in the disguise of small delights grace your path,
Copper Otter Pyrate